Executive Search & Recruiting Services For Nonprofits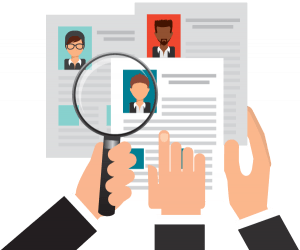 Part 1
If you're a smaller nonprofit or not large enough to have a dedicated HR Department, replacing key staff, be they executive-level or frontline, can be a challenge. If your organization is like most, your staff is focused on implementing programs related to your mission- adding the additional responsibilities of conducting a search and recruiting for vacant or new positions is more than they (or very likely, you) can manage. Although you may be able to oversee and manage the hiring process, chances are you're not going to do a great job or other areas of your work may suffer (or both). Think about it- one of the most important resources for your nonprofit is the people who work there providing services. Hiring the right people is an important investment that can make or break how successful you are at achieving your organization's mission.
A few of the challenges you may experience when trying to hire the right people are
Limited bandwidth
Chances are you're already short-staffed, either because you've had people leave or you're adding additional staff for a new program. Your existing staff is focused on doing their jobs, which are critical to your organization's mission. Asking them to take on the additional responsibility of searching/recruiting for vacant positions is going to put a strain on their already full-to-overflowing workload, which may cause the quality of their work to suffer. They may feel like they have a vested interest and want to participate in the hiring process- after all, the new hires will be their future co-workers and will impact how they're able to perform their jobs. You can still include them, but in a more limited capacity with their focus on giving feedback when final candidates are being considered.
Limited experience hiring executive-level or even frontline staff
Given that your organization doesn't have an HR Department, it's fair to assume you don't have a true HR professional on staff either. Designing an effective campaign to attract talent to your organization- especially at the lower pay scales nonprofits tend to pay- isn't as simple as placing an ad in the newspaper or posting it online. It starts with understanding the job and crafting a position that attracts candidates who want to work for an organization like yours because they identify with your mission or cause. It requires developing a marketing plan, which not only puts the position you're trying to fill in the best light, but your organization as well. After all, people who want to work for a nonprofit (at a lesser salary) want to know that their work is meaningful and makes a difference.
Limited perspective
Do the people who work at your nonprofit realize how the job and your organization is perceived from the outside? Do they understand what job and organizational highlights will attract top candidates? With any job, there are special qualities that are important to get candidates who will best fit the position. Having someone from outside your company who knows what nonprofits jobs are really like and the available candidate pool will endure that your marketing plan attracts the right candidates to apply. They will understand and be able to identify candidates who may have worked in the private sector, have transferable skill sets, and are motivated to take a pay cut in return for greater job satisfaction.
A great example of this is when a really large private sector employer in an area downsizes and lays off senior staff (often with paid buyouts). This may open up the possibility for candidates with years of corporate training and experience who are now looking to transition to work in the nonprofit sector they find meaningful.
Executive Service Corps- Florida and our team of consultants have many years of experience helping nonprofits recruit key staff position. If you have any questions or would like a free consultation to discuss how we can help your organization fill critical staff positions, please contact us.